Written by Tobes | 12 December 2012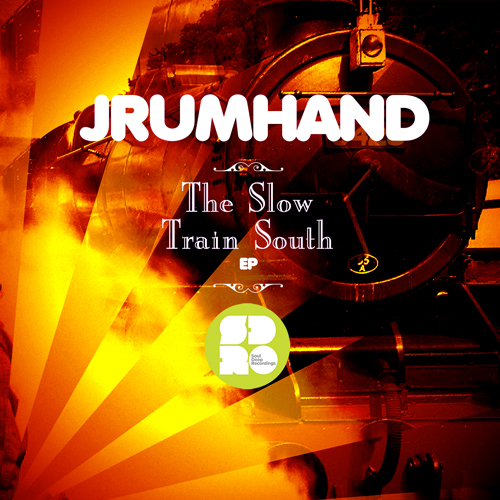 Would you like a slice of soul with your cocktail this weekend? I thought so, heres something that will definitely add some spice to your vibes, its the latest EP from Jrumhand on Soul Deep Recordings.
Its 4 tunes of wonderful melodic beats, sprinkled with jazz and soul that will have your speakers resonating warm energy, deep bouncy bass, swingy beats, and subtle vocals, every ingredient has been blended and perfectly crafted to create this wonderful nibble of audio.
Jrumhand hails from the UK and is a London boy at heart, but recently he's been living in Kent south east of the UK, it was at the tender age of 6 that his musical journey started, spending many hours learning to play the piano, as he grew up his musical tastes shifted from classical music to sifting through Vinyl in the local record shops, hip hop played some part on his journey, and then a few years later he came across the sounds of hardcore and jungle music.
Jrumhand eventually found the vibes which inspired him the most "Drum & Bass", and it wasn't long until he was frequenting the best DnB gigs in London such as Metalheadz and Speed, this was the moment the penny dropped which propelled Jrumhand into the technical domain, motivating him to spend many years buying studio hardware and perfecting his audio engineering skills.
I must say, it's funny looking back at how many of us were inspired by the early DnB scene, without knowing it I probably bumped into Jrumhand while dancing heavy to some serious beats on the MetalHeadz dance floor or maybe chilling in the VIP room at the Leisure Lounge, never for once thinking one day I would be writing articles for those of us getting deep inspiration from the vibes, those nights were heavy, dare I say it, verging on some spiritual moments, for sure we was all pretty high.
The good old days hey? well DnB has changed some what since then, in my opinion the sounds have become more refined, there is a lot more focus on the detail and this is exactly what you can expect from Jrumhands EP, his musical background shines through, if you like melodic liquid drum and bass, your going to love this release, every track is as strong as each other, a perfect blend of melody, bass and beats! its a 5/5 release for me.
You can find out more about Jrumhand, what he's getting up to, the labels he is releasing on, and listen to some of his latest beats by visiting his soundcloud page here https://soundcloud.com/jrumhand
And more importantly, make sure you keep your eyes out for Jrumhand in your local area, he's started touring with fellow producer and friend Phat Playaz, both are on a mission to get their sounds into as many clubs across the globe as possible, so thats a hint to you promoters out there, book them now!
To sum up this great release, Soul Deep recordings have really raised the bar with this selection, they are focused on quality melodical Drum & Bass, I know Im hooked, I will be speaking to Scott Allen the label owner soon, so keep checking back for that article in the coming weeks. Thanks for working hard pushing amazing music for us all, massive shouts out to all the Soul Deep crew over in the USA.
Have a listen to the tunes in the players below! Out December the 20th
Jrumhand - The Slow Train South

Audio clip: Adobe Flash Player (version 9 or above) is required to play this audio clip. Download the latest version here. You also need to have JavaScript enabled in your browser.
Jrumhand - Tomorrow

Audio clip: Adobe Flash Player (version 9 or above) is required to play this audio clip. Download the latest version here. You also need to have JavaScript enabled in your browser.
Jrumhand - Walk Away

Audio clip: Adobe Flash Player (version 9 or above) is required to play this audio clip. Download the latest version here. You also need to have JavaScript enabled in your browser.
Jrumhand & Tidal - Vanished

Audio clip: Adobe Flash Player (version 9 or above) is required to play this audio clip. Download the latest version here. You also need to have JavaScript enabled in your browser.
Visit Soul Deep Recordings www.souldeeprecordings.com
Comments
(0)