Written by Tobes | 06 August 2011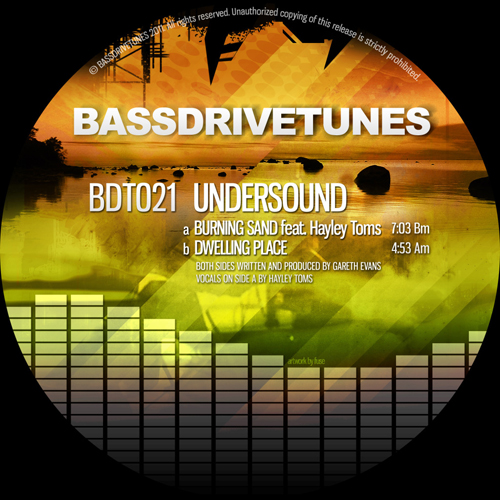 Undersound is back, in fact is this guy some kind of computer virus? I keep seeing the name Undersound pop up all over the place, and then when I click play, I keep getting the same amazing experience from his music, Undersound is no stranger in the studio, he knows the sound he wants and lays down the tracks effortlessly bringing quality each and every time.
This latest release from
Bassdrive Tunes
is no different, his musical background and raw talent is let loose once again in the studio.
On the A side we find "Dwelling Place" an emotional and deep track, maybe one for those of you missing a loved one, or reminiscing about some of those great times in your life, this track does have an underlying sad tone, deep and well thought out, as always the musical talent of this artist is blatantly apparent, the melodic structure and chord harmonies makes this another great track to add to the fast growing archive coming from the home of Undersound.
The B side brings "Burning Sand" an atmospheric build up with filtered synths and an underlying piano riff, a quiet tight snare drops and as the tune starts to build the vocals of Hayley Toms start to bless your ears, short and hypnotic vocals throughout, it is clear this is a mellow smooth roller, nothing too heavy for your bass bins, Undersound can be known for productions on the heavier end of DNB flavours, but this release brings gorgeous deep bass and a mellow late night feel. Great work once again.
Cat No: BDT021 - OUT NOW
01. Undersound - Burning Sand
02. Undersound - Dwelling Place
Purchase this release now from here...
Audio clip: Adobe Flash Player (version 9 or above) is required to play this audio clip. Download the latest version here. You also need to have JavaScript enabled in your browser.
Comments
(0)